Kenya Fast Track
Airport Meet and Assist
VIP Assistance at Kenya (NBO) (MBA) airports ...
CHECK PRICE
BOOK NOW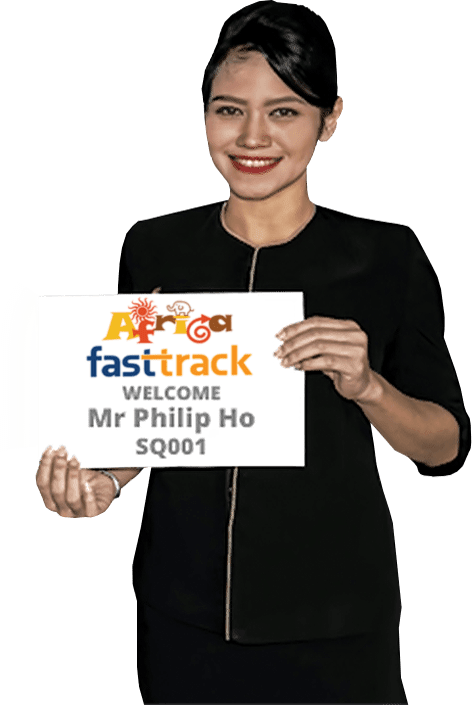 Meet and Assist services at airports in Kenya. For any traveler, on any airline, in any cabin class.
Kenya Nairobi and Mombasa airport is a  busy airport in continental Africa.  Booking a Meet and Assist Service will make passing through it fast and easy. Kenya Fast Track's local greeters will help bypass the lines and ensure a quick arrival, a smooth departure, or a successful connection.
Africa Fast Track's service in Kenya adds a first class feel, usually reserved for VIPs or celebrities. The service may include regular or special immigration handling, an electric buggy kart, help with VOA and baggage,  Before you book, our reservation team & system will help you book the exact service that you need.
Airport Meet and Greet service in Nairobi (NBO) and Mombasa (MBA).
On arrival Kenya Fast Track's English speaking greeters will meet you near the air bridge. They will assist you through any passport or visa control, and escort you to the baggage and customs area. They will help find your driver, or if you booked a connection, check in to your next flight.
On departure, they will contact your driver, will assist you through check-in and immigration, and will take you to your airline lounge or the boarding gate.
For connections, the greeter will meet you near the air bridge and will guide and escort you through the arrival, departure and transfer processes needed for your connection, right through to your airline lounge or the gate.
For more than 10 years our Airport Assistance and Booking Team has assisted thousands of travellers pass smoothly through busy airports. Before you book, Fast Track's tools and expert staff will help you understand and choose the exact service you need at the lowest possible cost.
Fast Track services are available to any traveler, on any airline, and in any cabin class, and in all major airports around Asia, the Middle East & Africa.
We offer our Meet and Greet services at 2 airports in Kenya; Mombasa (MBA) and Nairobi (NBO)
The International Airport of Mombasa (IATA: MBA) is the second largest airport in Kenya and offer regional and international flights. The airport is named after the former President of Kenya – Daniel arap Moi. International flights have operated from this airport since 1979 and it offers direct flights to several European destinations including: Italy, Germany, Poland and France.
There are two terminals at this airport with terminal one for international and terminal 2 for domestic and regional flights. Facilities are good with dining and shopping outlets and a VIP lounge.
We also provide our services at Jomo Kenyatta Airport (IATA: NBO)in Nairobi. This is the largest airport in Kenya and is located 15 KM south of Nairobi city. It serves more than 7 million passengers each year with flights to most countries around the World. In total there are 2 main terminals.   There are also a good selection of airport lounges, shopping outlets and shower facilities. Major Airlines including British Airways, Emirates, KLM, Lufthansa, Qatar and Turkish airlines all fly from this airport.
Kenya is a splendid place to get close to and experience a vast selection of wildlife; including the wildebeest and zebras who migrate in their millions. The peoples of Kenya bring us great diversity and history and ancient traditions. They are very warm and friendly people who welcome the visitor with open arms. There are many things to do in Kenya for the visitor. Although Kenyan food is not known for flair it nonetheless provides for a wholesome and tasty diet. In Nairobi there are a great selection of good restaurants and most of the large hotels have good dining options.
Etiquette in Kenya is important and especially so if one wants to maintain a conversation with someone. It is advised to learn a few friendly words in Swahili first to assist you in starting a friendly conversation. It is advised not to encourage begging but giving money and gifts to strangers. Entertainment is widespread throughout Kenya and you are sure to be able to enjoy one of the many  cultural shows performed by troupes from local tribes – have fun!